Claverton, Somerset helps fund its own broadband connection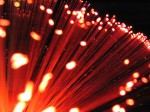 The village of Claverton, a couple of miles south of Bath, was not best pleased when residents discovered they were to be bypassed by the £2 bn. scheme to provide the rural UK with superfast broadband.
They decided to do something about it, according to yesterday's Western Daily Press.
What they decided to do was put their hands in their pockets and pay to upgrade the village's telecommunications connection.
In the end the 70 households in the village paid for two kilometres of underground ducting and four kilometres of overhead and underground fibre cabling. Claverton now has connection speeds up to 80 Mbps.
Parish councillor Dr. Rodger Sykes, who is CEO of a technology company and led the residents' campaign, commented as follows: ""Rather than just complaining and waiting for someone else to solve the problem, I'm very proud of the way the community got together… This is truly Big Society in action."
BT also contributed to improving the village's connection, as confirmed by Dr. Sykes: ""We realised the high costs involved meant Claverton would not be upgraded as part of BT's normal commercial fibre broadband roll-out for some time, so we set about working with the company to jointly solve the problem."
In spite of praise for BT on this occasion, the company's rural broadband roll-out has been heavily criticised by villagers across the South West, as well as exasperated MPs and councillors.