Dutch public sector to adopt ODF as standard?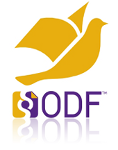 The Dutch Standardisation Board would like to see the mandatory use of Open Document Format (ODF) for the country's public sector organisations, according to a report on Joinup giving details of a presentation made by Nico Westpalm van Hoorn to the recent ODF Plugfest held in The Hague.
Van Hoorn stated that over 450,000 documents are transferred each day between the Dutch central
government and citizens or companies.
His presentation contained 3 main messages:
The only way reuse of document content is achievable for open data is by using the ODF format;
The only way to ensure sustainable access is by using the ODF format; and
"This format cannot be opened," as a remark by a public servant is not acceptable when somebody sends an ODF document.
Within the Dutch government, ODF is used as the default format for editable documents that are posted online. Documents are by default shared as HTML, PDF (for archiving) and as ODF. Furthermore, all central government workstations are capable of working with ODF, suggesting that civil servants who cannot open the format need some IT training.
Speaking at the same event, Steven Luitjes, director of Logius – an agency assisting government organisations in building e-government services, admitted that ODF is often ignored by public sector organisations and that a failure to standardise on formats is increasing the cost of public sector IT.
If the Dutch government does adopt ODF as a standard, this would follow on from the recent announcement of the standard's adoption by the Italian Ministry of Defence (news passim) and the UK government's publication of guidance for the introduction of ODF.