Bristol Data Dome launches next week
The Bristol Data Dome, which is housed inside At-Bristol's Planetarium, will be launched on Wednesday 18th November as part of the Festival of the Future City, the University of Bristol announces.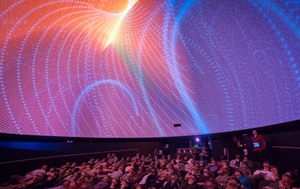 Connected to a dedicated high-performance computer at the University of Bristol, the Data Dome is a pioneering development on Bristol's digital scene with the potential of visualising real-time data in a truly distinctive environment.
At-Bristol's Planetarium is the UK's only 3D space capable of showing crisp 4K resolution and audiences will have the opportunity to see a variety of content from earth sciences and open data to sociological mapping. There's also the possibility of experimental gaming in the dome.
Ticket prices for the launch are £7.00 online, £8.00 on the day and £6.00 for concessions. Booking fees will be applicable too.
Tickets for the 8.00 p.m. and 9.00 p.m. launch shows on 18th November are available from At-Bristol.
The shows will demonstrate how new technologies can be used to visualise the city and how the Data Dome could lead the way towards innovation in gaming, learning and active citizenship.
The Data Dome will also be available for hire.