World Technology Award finalists include 2 Bristol dons
The University of Bristol reports today that two of its staff have been named as finalists for the World Technology Award by the World Technology Network (WTN).
The WTN is a global community comprising the most innovative people and organisations at the forefront of science and technology and related fields.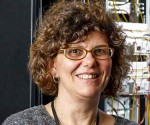 The first of the Bristol academics named as finalists is Professor Dimitra Simeonidou, Director of the Smart Internet Lab and Head of the High Performance Networks (HPN) Group.
The High Performance Networks Group (HPN) specialises in the application of advanced hardware and software technologies. The group addresses the demands of the future optical networks and high-performance network-based services in both fundamental academic research and industrial applications. The group has world-class facilities, including state of the art optical transmission testbeds and software-defined network experimental platforms.
The group has a strong tradition in co-operating with industry, as well as being an international leader in the following fields:
Next generation optical transmission networks;
Optical packet and burst switching
Optical data centre solutions and architecture;
Grid and cloud networking;
Software-defined optical networking (SDN) and network virtualisation;
Hybrid network domains orchestration and service management.
In recent years the group has made significant breakthroughs and now focuses on the application of Software Defined Networking and programmable optical networks.
The group is currently addressing topics such as the Bristol smart city ICT solutions, the Internet of Things (IoT), ultra-high performance media, distributed optical data centre architecture and technologies. This researches will support the development of the future internet and the impending big data era.
The HPN lab also forms part of the UK National Dark Fibre Infrastructure Service (NDFIS). This network infrastructure has enabled close collaboration with leading research institutions and industry in ​the UK, ​USA, Brazil, Japan and across Europe.
The other academic named as a finalist is Professor Mark Thompson, Director of the Quantum Engineering Centre for Doctoral Training and Director of the Centre for Quantum Photonics.
Both have been nominated for the award in the Communications Technology category.
Award winners will be announced at the WTN's 14th annual World Technology Summit & Awards event to be held next week [19th-20th November] in New York, USA.
The World Technology Summit & Awards is a global gathering bringing together many of the world's leading technologists, scientists, futurists, policy-makers, entrepreneurs and forward-thinkers for two days of talks, panel discussions and demonstrations that explore what's ground-breaking, imminent, possible and could change society in emerging technologies.