Collabora & ownCloud announce partnership & release CODE for LibreOffice Online developers
Collabora, the architects of LibreOffice Online, have announced a the formation of a partnership and the release of CODE (Collabora Online Development Edition), a distribution of LibreOffice Online and ownCloud Server. The purpose of CODE is to give interested developers from any field an easy way to get early access to the very latest untested feature additions and updates to LibreOffice Online, in order to enable them to develop, test and contribute. ownCloud is the company behind ownCloud Server, the world's most popular open source enterprise file synchronisation and share (EFSS) software. The partnership will deliver a combined commercial solution during 2016, based on an integration of Collabora CloudSuite – a trio of Online, Mobile and Desktop office productivity – with ownCloud Server.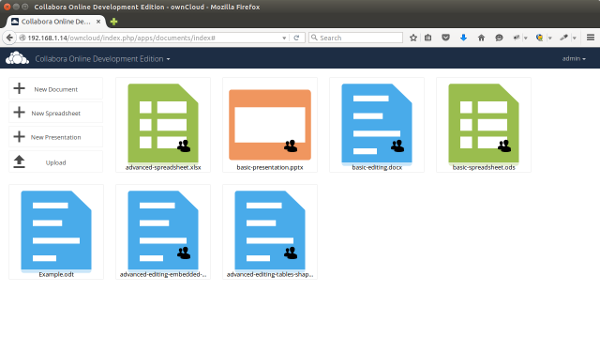 "We're delighted to partner with ownCloud to strengthen our go-to-market posture as we look forward to fulfilling the considerable market demand for an Open Source cloud document suite," said Michael Meeks, Collabora Productivity's General Manager. "This initial release of CODE is our first step in this exciting journey. By design, Collabora Online does not include essential cloud functionality such as identity management or storage. CODE gives a showcase of how filling this gap with a complementary integration with ownCloud gives a taste of the final deployment experience."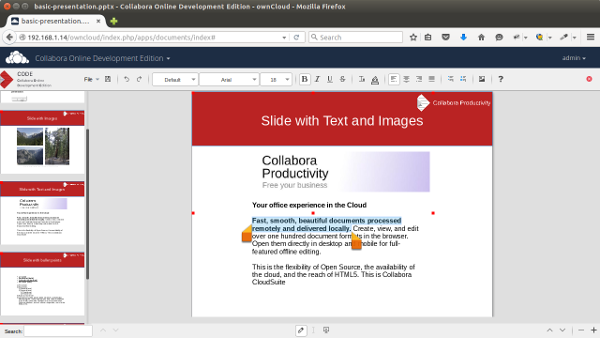 "Collabora is a great open source contributor and a great partner for ownCloud to deliver a full LibreOffice Online experience integrated with ownCloud to the ownCloud Community. Developers and Users will be able to easily view and edit documents while storing them in ownCloud," said Frank Karlitschek, ownCloud founder and project leader. "This integration proves the power of integration between leading Projects and allows full support for all major document, spreadsheet and presentation file formats."
CODE (Collabora Online Development Edition) allows prototype editing of richly formatted documents from a web browser. It has good support for key file formats , including text documents (docx, doc, odt, pdf, etc.), spreadsheets (xlsx, xls, ods, etc.) and presentations (pptx, ppt, odp, etc.). All files are processed in the cloud and rendered locally. This initial version allows basic editing. Collaborative and rich editing are planned. Interested developers can download CODE as an easily deployable virtual machine base image, bundled with ownCloud Server, and start contributing to both projects right away.