Taiwan replaces UK at top of open data league table
According to information released by the Open Knowledge Foundation, Taiwan has surprisingly topped the Open Data countries league for 2015, displacing the United Kingdom which has dropped to 2nd place.
The Top 10 open data countries are shown below.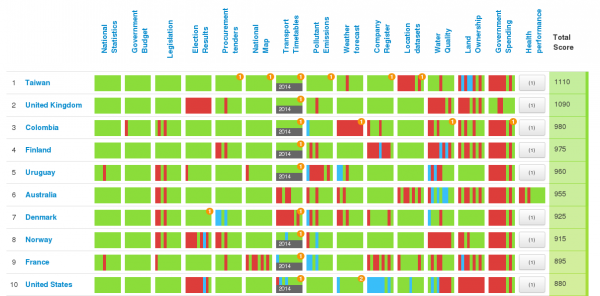 Taiwan's ascent and replacement of the UK in the top position is down to a number of accompanying factors, such as the high level of press freedom, with both the public and private sectors forming part of the broader "reuse" groups of public sector information. In addition, Taiwan staggeringly claims the world's highest penetration of Facebook users to overall population. This has also contributed to a fast cycle of feedback loops on public discourse of any datasets released from dozens of data portals.
From the government perspective, another major contributing factor has been Taiwan's establishment of a formalised public consultation mechanism in the form of dedicated committees in all ministries. A total of over 30 were established in first half of 2015 and this has assisted in raising awareness of Open Knowledge.
As regards other countries, "progress remains slow for most governments, who are still not providing key information in an accessible format to be used, without restriction, by their citizens, civil societies, journalists and businesses", although the index shows some improvements.
EU Member States' Open Data performance
Reporting on EU Member States in the 2015 Open Data survey, Joinup states the following:
Some EU countries performed well in the 2015 index, such as the Netherlands (up to 8th place, from 17th in 2014), Romania (up to 13th from 16th in 2014), Bulgaria (up to 16th from 51st in 2014), Spain (up to 17th from 31st in 2014), Italy (up to 17th from 25th in 2014), Ireland (up to 31st from 36th in 2014), Belgium (up to 35th from 53rd in 2014) and Greece (up to 42nd from 54th in 2014). But like the UK, France fell significantly in the ranking, from 3rd to 10th place, and Germany, which fell from 9th to 26th place in 2015.