French public sector free software list approved for 2016
The inter-ministerial free software list – known in France by its acronym SILL – has had its 2016 version approved and now includes the Android ecosystem, LeMagIT reports.
The Android operating system and the LibreOffice 5 office suite are included in the 2016 version of the SILL which was officially approved on 11th December by the Inter-ministerial Information Systems and Communication Committee.
SILL is an overall reference document (PDF) listing free software packages solutions approved for use by French public sector organisations. Initially confined to desktop tools, SILL was extended to other information system sectors in 2014, such as development tools and databases. Since then SILL has been embracing desktops, equipment management, server operation, databases and development environments. SILL places each item of software in a table (see below) classified by use and distinguished by versions, licences and tool formats, as well their recommendation level (recommended, under observation or end of life).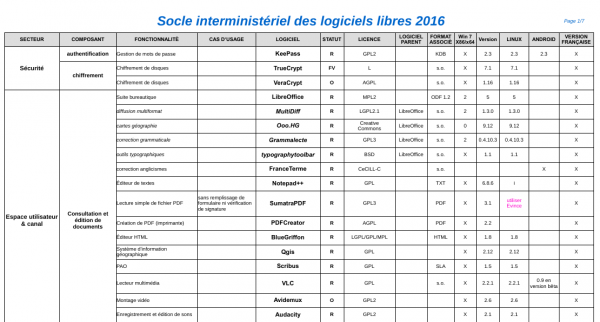 This list is also the outcome of many inter-ministerial working groups working in very specific areas, such as MiMo (Mutualisation InterMinistérielle pour un environnement de travail Ouvert – Inter-ministerial Pool for an open desktop environment) which covers the workstation and had already certified one version of the LibreOffice suite for the approval of its use in government ministries; version 5 has now been added to SILL 2016, as previously mentioned.
Although the 2016 version has few notable changes from its predecessor, the Android ecosystem has been added alongside Linux and Windows for mobile device use.