Bristol does well in broadband speed stakes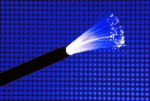 Back before Christmas, telecommunications regulator Ofcom published its Connected Nations infrastructure report (PDF) which examines connectivity in the UK in 2014 and 2015 and the media have just caught up from their festive torpor.
According to Ofcom, "superfast" broadband (30 Mb/s and above) is now available to more consumers than ever before, with both industry and Government investments driving improvements in coverage. However, 17% of consumer households and Small- and Medium-sized enterprises (SMEs) remain unable to take advantage of these services. While that number is likely to reduce over the coming few years, a significant proportion of homes and businesses will still be unable to receive "superfast" broadband without further action.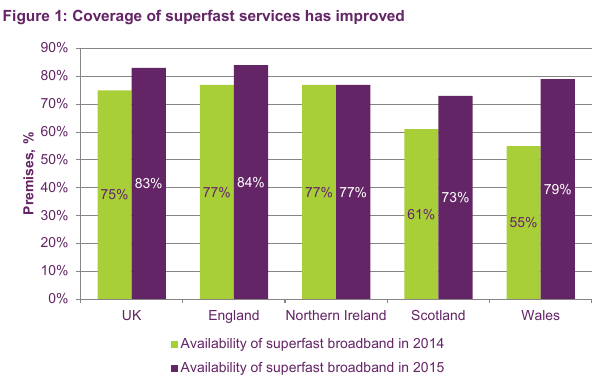 Both the coverage and speed of "superfast" broadband continue to increase. Around 83% of UK premises are now able to receive "superfast" broadband, up from 75% in 2014, and the average "superfast" download speed is now 65Mbit/s.
One of those parts of the media which awoke to comment on Ofcom's latest research was the Bristol Post, which reported on the city's allegedly fortunate position in terms of the broadband speeds league title under the headline "Bristol has one of the UK's fastest internet connections" (just the one internet connection, Bristol Post? Shome mishtake shurely. Ed. 😉 ).
According to this league table, Bristol appears in 5th position, as follows:
Area – % "Superfast" coverage – Median download speed Mbit/s 2015 (% change from 2014)
Brighton & Hove – 95% – 30 (50.0%)
Plymouth – 95% – 30 (50.0%)
Hartlepool – 93% – 30 (50.0%)
Nottingham – 92% – 30 (47.1%)
Bristol – 92% – 30 (40.2%)
North East Lincolnshire – 95% – 30 (38.9%)
Portsmouth – 96% – 30 (37.6%)
Luton – 98% – 30 (33.9%)
Belfast – 97% – 30 (27.7%)
Cardiff – 92% – 24 (20.0%)
Stockton-on-Tees – 88% – 24 (20.0%)
Dundee – 94% – 24 (18.2%)
Ofcom also notes that alongside the continuing roll-out of superfast broadband services, a range of new
services are beginning to emerge that offer even faster speeds. These services are enabled by new technologies, such as:
Fibre-optic networks connecting premises directly to local exchanges (also known as fibre to the premises – FTTP. Ed.), without the need for slower, copper-based cabling;
Improved computational power and technology development, which is enabling the more efficient encoding and transmission of data across network links; and
In those areas where FTTP services are not economically possible, G.fast,
an emerging technology capable of delivering speeds in excess of 100Mbit/s, is being deployed. It takes high-speed fibre connections closer to the consumer's premises and uses a short copper cable to complete the link.