Open source helps Bristol dons win award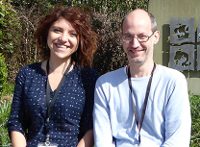 Open source software was an essential element in the work of 2 Bristol modern languages tutors who have just won an award.
The University of Bristol has announced that Marcella Oliviero and Andrea Zhok have won first prize in the 2016 Apereo Teaching & Learning Awards (ATLAS) for a project that helped first-year students in the Department of Italian teach elements of grammar to their peers. With support from University staff, students were encouraged to develop their own tutorials using Xerte, an open source software package for the creation of interactive teaching and learning materials, which has been developed by the University of Nottingham. As a result, students gained a greater stake in their own learning, improved their subject knowledge and acquired new IT skills.

Apereo is a network that develops and maintains e-learning software used in thousands of educational institutions worldwide. Packages like Xerte permit the use of a wide range of functions and media to make the learning experience richer and more diverse than is possible with traditional methods. The tutors' success was announced at the 2016 Xerte Conference in Nottingham and they have also been invited to present their work at the Open Apereo conference in New York later this month.