Somerset to receive £40 mn. investment in broadband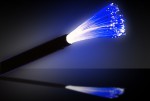 Broadband network providers are expected to bid for six contracts worth a total of £39.5 mn. to improve broadband connections in Somerset and Devon, yesterday's Somerset Live (formerly the Western Daily Press. Ed.) reports.
The investment will provide broadband services between 30 Mbps (sometimes termed "superfast") and "ultrafast" 100 Mbps to customers, mostly to rural areas of both counties, with the aim of bringing faster broadband to areas unlikely to benefit from wholly commercial operations, including the Mendips, Quantocks, Exmoor and the Blackdown Hills.
This is second phase of a superfast broadband scheme for Somerset which has been launched this week by Connecting Devon and Somerset (CDS).
Potential suppliers will have to present plans to connect as many people as possible by the end of 2017.
As part of its efforts to improve broadband access so all premises have "broadband" speeds of at least 2 Mbps, CDS has recently launched a voucher scheme. To date 1,400 applications have been received and 1,000 vouchers for up to £500 redeemed.