Telford to apply for EU funding for better business broadband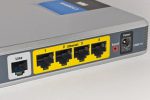 Telford & Wrekin Council's cabinet is set to approve a scheme to apply for European funding to provide better broadband for business, today's Shropshire Star reports.
If the bid is successful, the funding will be used to give eligible businesses grants for fibre optic broadband through the Marches Broadband Grant project.
Telford & Wrekin Council is seeking £237,818 from the European Regional Development Fund, which will need to be matched by additional funding of £158,545, with the full amount allowing grants for up to 124 local businesses, which will receive between £7,000 and £25,000 each for faster connectivity.
Telford & Wrekin Council's cabinet member for customer and neighbourhood services Cllr. Angela McClements, said: "The priority is the delivery of Superfast Telford which is still in the early stages of delivery.
"However, the Marches Broadband Grant scheme opens up the availability of fibre broadband to businesses that might not be covered by Superfast Telford."
The decision on the matched funding arrangement, which will involve neighbouring Shropshire Council and nearby Herefordshire Council, will be made by the local authority's cabinet on 21st July.
This news comes less than one week after Shropshire Council announced changes to its approach to the provision of better broadband in the county, which the Star reported would result in delays in better connectivity for between 12,000 and 20,000 homes.