"Superfast" broadband coming to more S. Gloucs. villages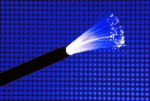 Some 2,000 homes and businesses in South Gloucestershire are set to benefit from an investment of £1.49 mn. in so-called "superfast" broadband up to 2017.
The South Gloucestershire villages are likely to benefit from this cash injection include Tytherington, Dyrham, Hinton, Littleton-upon-Severn, Oldbury-on-Severn, Cromhall, Elberton, Codrington and Little Sodbury, although surveys will need to be undertaken to confirm exactly where the network upgrade work will be carried out, yesterday's Bristol Post reports.
The new investment will take superfast broadband coverage from 93% to 95% across the unitary authority area by the end of 2017, whilst the partnership between South Gloucestershire Council, BDUK and BT in charge of the project is reported to have made faster fibre broadband available to over 18,000 homes and businesses already since it began in 2013.
This latest cash injection has been made possible for a number of reasons, including savings from the first phase of the roll-out, investment from BT triggered by high take-up of the service and additional funding that South Gloucestershire has secured through the Government's Broadband Delivery UK (BDUK) programme and the West of England Local Enterprise Partnership (LEP).