Somerset villages get 1 Mbps "broadband"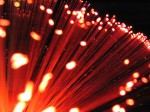 Residents of the Somerset villages and hamlets of Ashton, Badgworth and Stone and Chapel Allerton are currently enduring "broadband" speeds as low as 1 Mbps.
The Weston Mercury reports that the villagers recently held a meeting to discuss the situation and discovered they were eligible to apply for a grant scheme to improve their connectivity.
More than 50 villagers attended the meeting on 13th July to discuss different action plans.
The outcome of the meeting was a decision to apply for a £500 voucher through Connecting Devon and Somerset (CDS), which is aiming to install so-called "superfast" broadband (speed = 30 Mbps. Ed.) across all parts of the two counties by the end of 2020.