New Northampton business fibre broadband offer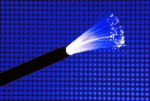 Earlier this week the Northampton Chronicle reported that businesses in the town could be line for faster broadband.
In the early noughties, Yorkshire-based Kingston Communications (formerly the city of Hull's Telephone Department – the only non-nationalised part of the UK telephone network – and now renamed the KCOM Group. Ed.) laid several kilometres of fibre-optic cable around Northampton.
London-based City Fibre has now acquired the dormant 45 km network and wants to roll 1 Gbps speed broadband out to local businesses.
Local firm BDFB will be acting as the scheme's service provider. DBFB's chief executive Simon Pickering, said: "This is transformational technology for businesses in Northampton… From our point of view we are bringing big city technology to Northampton."
City Fibre has already launched similar schemes in Glasgow, Edinburgh, Milton Keynes and elsewhere.