Bristol's CFMS launches new supercomputer
The Centre for Modelling & Simulation (CFMS), a not-for-profit organisation that specialises in high value design capability, which is based at the Bristol & Bath Science Park, launched a new supercomputer last week.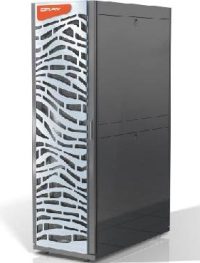 Announced in June 2016, CFMS awarded the contract for the refresh of its high performance computing infrastructure to Cray Inc., a global leader in supercomputing. The new system consists of a Cray® CS400 cluster supercomputer, utilising Intel® Xeon® processor E5-2600 v4 product family formerly codenamed "Broadwell" with a parallel storage system provided by ArcaStream. NVIDIA Tesla® GPU accelerators are also included and used to accelerate applications, providing users with faster response times and enhanced performance levels for demanding computational tasks.
Up to five times more powerful than the previous system, industry organisations including Rolls-Royce and Airbus use the CFMS High Performance Computing (HPC) cluster for research and methods development, which underpins simulation-based design activities. Undertaking a collaborative role, CFMS acts as an interface between industry, academia and technology organisations, offering access to advanced simulation expertise and technologies that enable companies to accelerate product development and engineering design capability.
CFMS operates across a number of sectors including aerospace and defence, automotive, civil engineering and renewable energy. Access to the new system is open to both large and small companies.
Sam Paice, CFMS' Chief Operating Officer said: "With an evolution in engineering design taking place, we are welcoming a new era, one where advanced simulation takes centre stage, accelerating product development and differentiation, while enabling technological advantages and business growth. We are pleased to announce the availability of the new supercomputing cluster at CFMS."