Sadiq Khan unveils £7 mn. fund to help young Londoners access tech jobs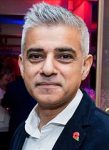 Yesterday the Mayor of London, Sadiq Khan, announced a £7 mn. programme to arm young Londoners with the skills needed to get jobs in the city's thriving digital, technology and creative sectors.
Called the Digital Talent Programme, the scheme will have a particular focus on boosting the proportion of women in the industry (currently just 17%), as well as working to raise the numbers of black, Asian and minority ethnic Londoners and those from disadvantaged communities employed in those sectors.
Furthermore, it will help Londoners access tech jobs by offering work placements, creating tailored learning opportunities, assisting university students and helping businesses to access the skills they need.
The Digital Talent Programme will boost the number of young Londoners finding tech sector employment by:
Increasing the number of high-quality learning opportunities for young people aged 15-24 years to study industry-designed courses in technology, digital and digital-creative disciplines that will lead to employment;
Supporting 1,000 young Londoners to access new, industry approved learning opportunities;
Assisting 500 university students to gain new skills and work experience through small business placements;
Helping 400 start-ups and small businesses to access higher level skills that will support business growth;
Supporting 400 school and Further Education teachers in providing industry-relevant digital skills learning and qualifications;
Assisting 2,000 young Londoners to access better information, sign-posting, careers guidance and events for digital, technology and digital-creative roles;
Working with organisations to organise events, careers advice, role models and more to change perceptions of tech being just for boys.
There are now around 40,000 tech businesses in London, employing almost 200,000 people, 3.5% of the capital's total workforce.
However, there is a growing gap between the skills of young Londoners and those that the capital's digital and technology businesses need if they are to continue to thrive.
Overall, the Digital Talent Programme will invest £5 mn. from the London Local Enterprise Partnership (LEP) and £2 mn. from the European Social Fund.
Any Londoners reading this who are keen to register their interest for the Digital Talent programme can do so at www.london.gov.uk/DigitalTalent.