What we did at the Big Green Gathering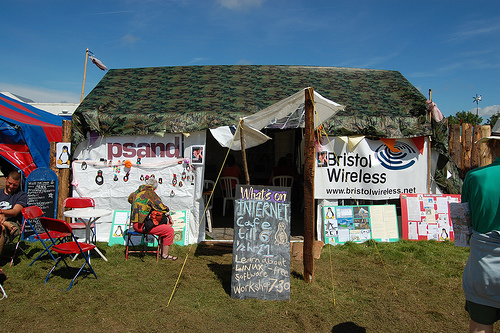 Our annual jaunt to the BGG geared up in July. We had plenty of volunteers and despite several weeks of unremitting rain, we were confident that the weather would be fine and that we would be having a wonderful bus persons holiday.
Mike from Psand was on site several days (weeks?) before the rest of us as he had been contracted by the BGG administrative team to provide connectivity and other IT services (incredibly cheaply I might add!). The advance guard of the rest of the crew arrived over the preceding weekend only to find Mike had the tent up, satellite communications ready and the cider on tap (um, why were we here again?).
And so on Wednesday morning before the gates even opened we were up and running and ready to serve peoples' internet needs for the next 5 days. After an initial slow start (people had to put up their tents I suppose!), we were pretty packed out the whole time. Despite producing lots of information boards and leaflets our volunteers were still inundated with IT queries and problems, and when not showing Hare Krishna monks where to find the Iceweasel browser or strong arming wifi freeloaders into Norm's cafe next door, were busy buttonholing the curious and the accidental visitors, advocating away on behalf of open source and Linux. Meanwhile in the back of the crew area, Mike experimented with cocktails, while Matt did mysterious things with extra long VGA cables and satellite TV.
The one disappointment of the week was the failure to launch of our workshop program; we now realise that the idea of "turning up and see what happens" probably isn't the right approach. After an hour struggling with an old laptop, projector and lack of ideas we abandoned it. It was more than made up for by Ben, Hamish and Mike presenting a riveting talk and discussion on copyleft in the Green forums tent, which will be online shortly, and our screening of corporate copyright breaking Sicko (dir. Michael Moore) in our impromptu cinema. Starting a 3 hour movie at midnight after an evening of drinking cider might make us rethink our scheduling next year. Despite that, all the seats were taken, and there wasn't a dry eye in the house at the end.
Most of the crew had to leave on Sunday at the end for mundane "jobs" back in Bristol on Monday morning, but the takedown crew was even able to offer a limited service for donations throughout Monday for stragglers and site crew to arrange transport home, while a small group of us staged an impromptu ceremony for our fallen comrade Woody.
We raised over £700 after covering our costs and the sun shone all week (except for one morning when the tent nearly fell down due to the weight of the water, resulting in an emergency tent surgery class) and we're all looking forward to going back next year and doing it again, bigger, better and with properly planned workshops.
Thanks to Di, Hilary, Llanos, Andy, Ben, Toffee, Bails, Jim, Rich, Mike, Matt, Ryan, Rachel, Neave, Josh, Reuben & and anybody else who helped out and bought the cider. 🙂