St Werbians in Hoo St Werburgh
On 31st July our mobile Internet suite set out from St Werburgh's Bristol en route to this year's Camp for Climate Action, pitched up near Hoo St Werburgh, on the Hoo Peninsula betwixt the Thames estuary and Medway river in a great big 30′ x 45′ marquee that would be the camp's Be The Media space during twelve days.
We were able to provide the camp with a suite of recycled low-energy usage computers running on 12VDC kindly provided by the combined renewable energy powers of Coltek and Ray-Mundo's Renewables, as well as the knee-busting efforts of fellow climate campers who pedal-powered public access terminals courtesy of bicycle generators provided by Magnificent Revolution.
On the day of mass action on the 9th August we were able to provide facilities for a fully-fledged Field Alternative Media Centre, providing facilities for the camp and grass-roots media crew, such as Indymedia, Undercurrents and Dissident Island, who provided the Climate Camp's very own radio station.
And if that wasn't enough, the space offered workshops on Free Software, alternative media and renewable energy. More information about the planning behind the space.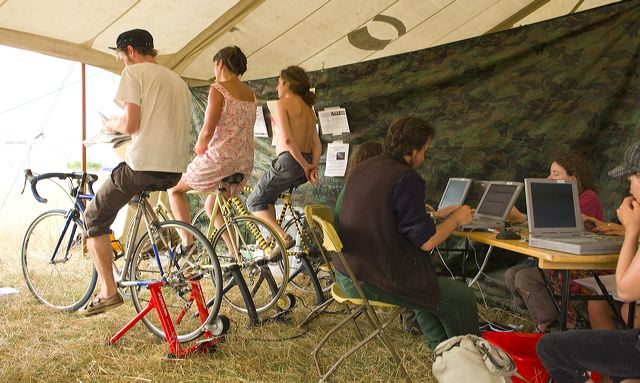 We had some great feedback from the folks at Magnificent Revolution: "Hey Bristol Wireless. Thought you might like to know we linked to your site in our blog http://www.magnificentrevolution.org/2008/08/climate-camp/. We had a great time bike-powering your laptops. At 20w each they were a breeze!"
A rewarding and productive, and even fun, time was had by all.