Hacktionlab 2009 – a call to hacktion
Following on from the two successful gatherings to date – a rural hack meeting in the Wye Valley in June 2008 (news passim) and an urban one in Leeds in October 2008 – HacktionLab is pleased to announce its next rural gathering will be taking place between Thursday 11th and Sunday 14th June 2009 and will once again be visiting the Wye Valley.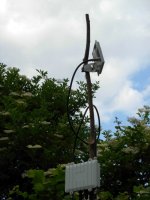 The aim of HacktionLab is to bring together people interested in and/or working in the areas of alternative media, renewable energy, on-line video distribution, free software and any other form of activism that uses technology.
The idea for the gathering has come from a number of years of experience gained by activists working for organisations such as Indymedia and includes specific experience from involvement in the Horizone Eco-Village in Stirling (2005), the Camps for Climate Action in Drax (2006), Heathrow (2007) and Kingsnorth (2008), as well as the No Borders camp at Gatwick (2007) and recent experience from the G20 protests in London in March and April 2009.
Hacktionlab is primarily aimed at folk with a desire or need to learn or to share knowledge on doing mobile media access and video work in situations like those outlined above.
Please come if you have experience(s) to share with others so as to encourage the amount of shared knowledge in the UK-wide media, free software and alternative technology activist network. The weekend is most suitable for activists using media, geeks and hackers (as opposed to crackers), but anyone else that is interested in attending is most welcome.
More information on Hacktionlab is available at Hacktivista, where you can also sign up for the event, plus a mailing list.