First sight of Mk2 cabinets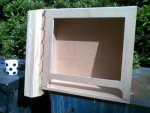 Regular readers of Bristol Wireless News may recall that in early 2008 we had a series of secure cabinets designed and built for the public access internet suite at St Werburgh's Community Centre – our base for the past 3 years (news passim).
Last Friday Rich, one of our longest serving volunteers, spent the day with a designer working out the design for the next generation of secure cabinets to be installed in Easton Community Centre, where they'll be housing some new slimline thin clients we're building for the Centre: and these promise to be some of the funkiest, smallest clients we've ever deployed, featuring mini-ITX motherboards and laptop-sized keyboards. 😀
At the moment, the design is only a mock-up in MDF, but will be produced ultimately in sheet metal and, once complete, the cabinets will house not only the thin client, but its display, a laptop-sized keyboard, 2 USB ports and input and output for audio, so users will be able to plug in their headphones and microphones.
Work is continuing as this piece goes to press, but we'll keep you updated on future progress.