The Mk. II cabinet arrives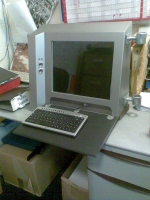 Some months ago Bristol Wireless were asked by Easton Community Centre to provide some new LTSP thin clients in secure cabinets, similar to those already installed in St Werburgh's Community Centre (news passim), whilst regular readers may recall our first post on the Mk. II cabinets.
The first of the cabinets was delivered to Easton last week and, as can be seen, these are slightly different to the Burg cabinets: for a start, the new cabinets are wall-mounted whereas the first batch were for desk use (apart from one free-standing unit).
The other differences are mainly small design improvements: all the accessories fitted to the cabinets (i.e. USB sockets, audio in and out sockets) have internal fixings and cannot be unscrewed from the outside. Just like the Mk. I, the cabinets are powder-coated for a durable finish and come with a flat panel monitor behind a sheet of toughened glass.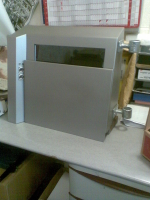 Inside the cabinets, the thin client is of a more compact design, based on a mini-ITX board running an Atom processor. Finally, the cabinet itself has the keyboard housed on a hinged shelf, which also hides a neat little mousehole for accommodating the machine's resident rodent.
The cabinets were designed by Bristol Wireless in collaboration with Joshua Baker, with CAD work by Jem Dumble of Steel Monkey in Bedminster and fabricating by John Chilcott down on Spike Island.
Yesterday, 2 of our volunteers – Acesabe and Rich – were round at Easton doing some cabling ready for the installation and finalising other arrangements for the arrival and setting up of the full production run – otherwise termed 'doing the snagging'. 🙂