Rosevear gets the bullet
Over the last few days Bristol Wireless volunteers Rich, Amias, Acesabe and Mark have been working to upgrade the network connection we provide to Rosevear sheltered housing scheme for the elderly in Newtown, Bristol.
This has seen our volunteers at work not just in Rosevear itself, but also on the top of Twinnell House in Easton, where a new 5.8 GHz sector antenna has been installed.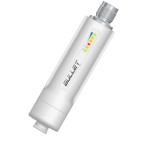 At Rosevear the lads have installed a new 5.8 GHz directional antenna to provide the link to the new 5.8 GHz sector on Twinnell. At the coaxial connection end of this antenna, we're trying out a new bit of kit – a Bullet 5 from Ubiquiti Networks, Inc., which is powered at the other (network cable) end by PoE. (For those interested in the device's technical specifications, the datasheet is here (PDF). Ed.)
Whilst the lads were there, Rosevear has also had an upgrade of its LTSP server and they now have a mono laser printer, which they didn't before.
The work is being funded under a Fund For Older People grant administered by the Quartet Community Foundation.