Public wifi access on Crete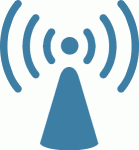 Some Bristol Wireless members have just returned from a week's holiday on Crete – Greece's largest island. While there they visited Heraklion and Rethymno, 2 of the largest cities on the island, as well as staying in a small village on the south coast, and thus had ample opportunity to assess the island's wifi.
A brief assessment of public wifi can be given in a couple of words, i.e. it's ubiquitous. One never seems to be very far away from an open wifi AP in urban areas. Indeed, municipal wifi access seems to be a standard fixture in the public squares and parks of both Heraklion and Rethymno (British local authorities please note! Ed.).
Apart from public wifi, most of the cafés, restaurants and bars provided free wifi, although sometimes the APs were locked and the staff had to be asked for the WEP key.
Apart from one night, our accommodation consisted of youth hostels, once again with wifi access as standard. Indeed in one hostel we met one web designer who'd been there since May and using the local wifi access to continue working in more congenial surroundings than the UK. 🙂
The smallest place we found wifi: the village of Sellia (population 618) where the café's WEP key arrived along with the coffees and the ashtray.
Rich, one of the party, commented: "Having widespread wifi was very convenient. I noticed lots of point-to-point links on rooftops everywhere. Another thing I observed was that broadband speeds are faster on the north side of the island than the south."