Linux Lounge now on Twitter
Last week, the lab was pleased to receive a visit from BW member John Palfrey. For those who don't know him, John is the owner of the Linux Lounge (news passim), an old double-decker bus which he's refurbished and kitted out as a mobile IT centre, using all open source software, of course!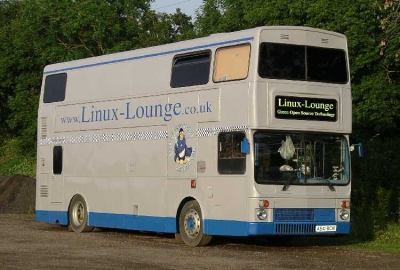 Anyway, to help further progress on the bus and to try and increase interest, as well as seek sponsors, John has now signed up for the Twitter micro-blogging service, where you can follow him as @GrnOpnSrcTech. The account name embraces all John's wishes for the bus – using open source and promoting green technologies.
As they say in Bristol: "Cheers drive!" 🙂