Parties fight it out on rural broadband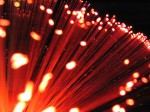 Rural broadband is a really hot issue in South Gloucestershire (news passim), so much so that two local political parties – the Liberal Democrats and Conservatives – are currently vying in the local press as to who provided the biggest gains to residents.
Yesterday, S. Gloucestershire Liberal Democrats claimed in the Bristol Post that
Liberal Democrat councillors serving on South Gloucestershire's Resources Committee have secured extra commitments to help improve internet access for rural residents.
The piece – written by party activists themselves – also quotes Westerleigh councillor Claire Young as saying: "while some in South Gloucestershire are now enjoying access to superfast broadband, many rural residents are stuck in the slow-lane and lucky to have access to 2 MB* per second."
Meanwhile in today's Bristol Post, South Gloucestershire's Tories have provided their own version (once again unmoderated. Ed.) of the same meeting, also claiming significant gains:
Conservatives voted that if certain rural communities were not serviced by Phase One of BT's superfast fibreoptic broadband rollout plan, that they be included in Phase Two as priority. Whilst this doesn't guarantee every house and business in each of these rural communities will get access to superfast broadband, it is a step in the right direction and shows that the Conservative rural broadband campaign has had a real impact.
Whilst both accounts apparently seem to deal with the same meeting, your correspondent is rather bemused by one fact, i.e. that the Conservatives went to a meeting of the Resources Sub-Committee, the Lib Dems went to a meeting of the Resources Committee.
Perhaps some kind, politically neutral officer from South Gloucestershire would care to enlighten us and our readers via the comments below as to whether the body in question is a full committee or a sub-committee.
Finally, a brief note to Claire Young and S. Glucestershire Liberal Democrats' publicity team: network connections are measured in megabits (Mb), not megabytes (MB). 🙂