Slow progress to superfast broadband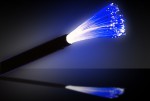 The small village of Adderley sits just inside north Shropshire, barely a mile from the Cheshire border. Nothing has really changed there for years (the chief scribe grew up nearby. Ed.). And for the last 6 years, residents have been frustrated by slow local broadband speeds.
However, there's now been one major change.
Saturday's Shropshire Star reported that Adderley has now been hooked up to 'superfast' broadband, usually classified in UK as anything over 24 Mbps.
According to the Star, the average download speed in Adderley has increased from 0.45 Mbps previously to nearly 59 Mbps.
The village's new connectivity was provided under a scheme provided by a partnership called Connecting Shropshire, comprising Shropshire Council and BT.
While villagers are absolutely delighted with their new fast connectivity, the effort to get the village connected was stuck firmly in the slow lane: it's taken the village more than 6 years to get better broadband speeds.
This is not the first time that there has been criticism of the slow and expensive roll-out of decent broadband to rural areas (news passim).
Moreover, back in autumn 2014 campaigners running the Shropshire and Marches Campaign for Better Rural Broadband severed ties with Connecting Shropshire (news passim).