BarnCamp burns the nerd gag
Last weekend saw the staging of BarnCamp 2015 (in which Bristol Wireless' volunteers have been involved since its inception. Ed.). Running from Friday 19th June to Sunday 21st, BarnCamp was as usual a low-cost rural DIY skillsharing event open to everyone, including UK activists, campaigners, people involved in social and community groups and anybody else with an interest in technology and how to subvert it to put it to good use.
According to the sales pitch: "All skill levels are invited and we promise that workshops are not too geeky due to our infamous nerd gag" (of which more later. Ed.).
Once again we were the guests of Highbury Farm, a housing co-operative set in some 30 acres of unimproved but rather steep grassland at Redbrook in the beautiful Wye Valley south of Monmouth.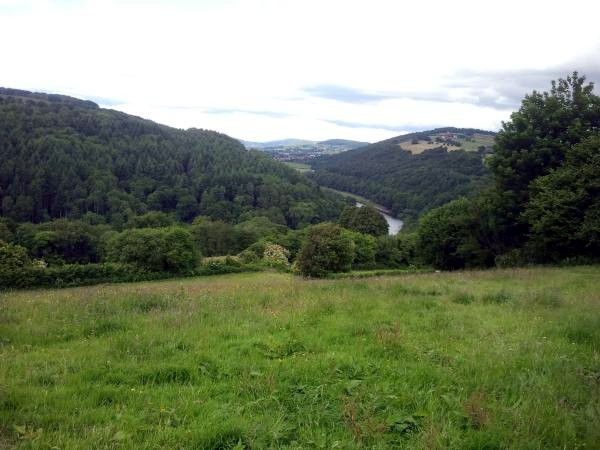 Your correspondent formed part of the forward crew who went to site on Wednesday to set up the event. This year a few more of us were on hand to ensure that all the essential infrastructure – large tents for workshops, signage, kitchen, other refreshment facilities, camp fire, showers and the like – was all in place for the first arrivals. Indeed it was more or less complete by lunchtime on Thursday. Well done all!
Once into the event proper, each day started with breakfast, followed by a plenary session, then workshops, lunch, more workshops and concluding with supper and socialising.
The workshops this year had the usual variety: an introduction to satellite communications, basic electronics, using WordPress and OpenStreetMap, to mention but a few. There were even sessions on basic self defence, whilst Ben's ever-popular wild food walk took place on no fewer than 3 occasions.
Your correspondent was in charge of building the nightly campfire, a duty that occasionally involved some sheltering of the previous night's embers from the rain, whilst even the woodpile showed its geeky side.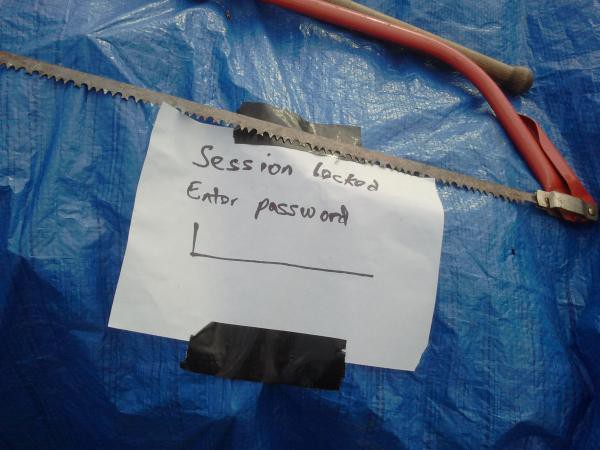 The woodpile geeking out wasn't the only bit of strangeness occurring on site during BarnCamp. There was also the the intriguing sounding shamanic laptop massage that happened somewhere in the surrounding woodland, for which scant photographic evidence exists.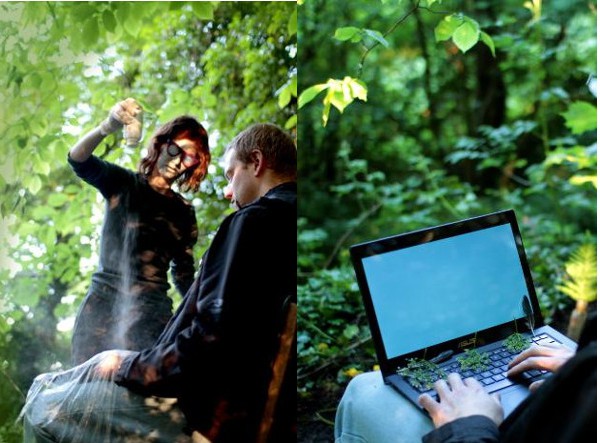 What's happened to the nerd gag? And what is it in the first place? This was a standard implemented some years ago to stop the less technical becoming too intimidated to the use of too much jargon by the more technically adept. Workshop presenters are encouraged to explain things properly if anyone so asks; this year there was even a space on the information wall where BarnCampers could share the jargon they had just acquired.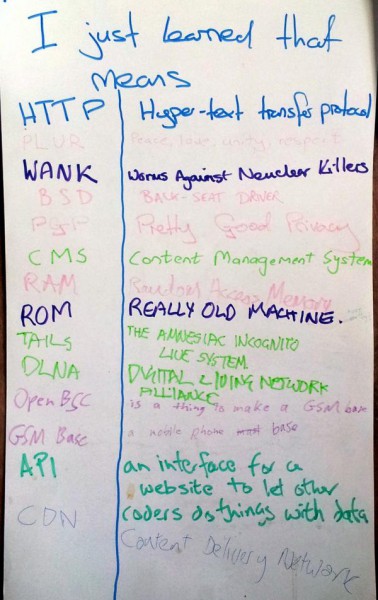 Nevertheless, there was one workshop – Sunday morning's session on server optimisation – that not only ripped off the nerd gag, but set light to it and threw it away! (And that was just with the first slide of the presentation! That one slide contained more technical acronyms than the rest of the programme put together. Ed.) However, this was perhaps the most jargon-laden session of the weekend and the most geeky, but it did come with lots of laughs… as long as you could get the jokes.
I hope all my fellow BarnCampers had as good a weekend as I did and once again my thanks go out to the good folk at Highbury Farm for their friendliness and hospitality. See you at the next one! 🙂